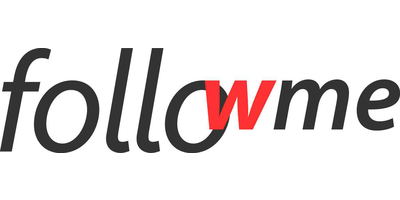 FollowMe Tandem
Please select the solid axle option if the front wheel of your child's bike is secured by wheel nuts (requiring a spanner to turn). This is applicable to most 'standard' kids' bikes.

Select the hollow axle option if the front wheel of your child's bike is secured either by allen key/hex bolts or a quick-release skewer. This is usually applicable to brands such as Frog, Islabikes, woom, Squish and Wiggins.
Cycle individually, or be towed.
FollowMe is a clever tandem hitch that makes family cycling a safe and fun experience in an instant.
Attach your child's bike to yours in areas of traffic or when they become tired, then quickly disconnect again when you want to ride solo. The FollowMe Tandem allows you to adapt to different situations to ensure a great family cycling experience.
Need a helping hand?
Our support section has all your questions covered.
You are advised to check this section for compatibility.
Help me
What's in the box?
Included in the box as standard are the following:
FollowMe Tandem
Standard FollowMe quick release skewer
Hook up strap and carabiner
Frame clamp for childs bike
2 x axle nuts for child's bike with solid axle
Make sure you select the hollow axle option if your child's bike front wheel is secured into the front fork by allen key bolts or a quick-release skewer.
Please note that adaptors for adults' bikes with solid spindles (wheel nuts) are not included as standard.
These are available via the
FollowMe Accessories page
or by contacting us.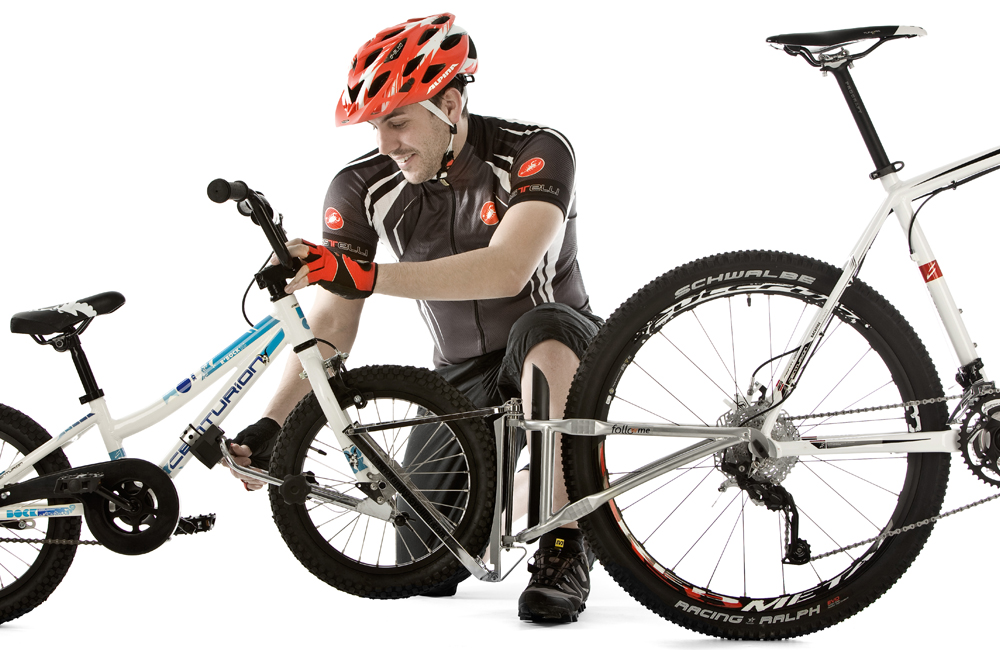 Quickly Connected
After the initial installation, you can quickly attach and detatch your child's bike in a few short moves; all without the need for tools.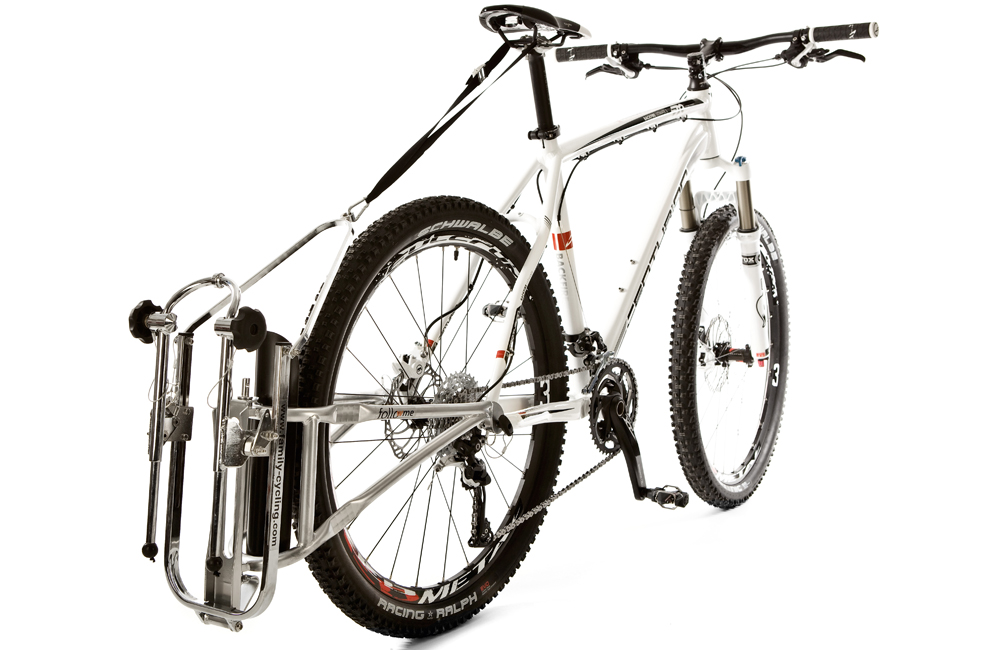 Cycle Individually
After use, or when the child is not being towed, fold the FollowMe up and attach it to the rails of your saddle or your pannier rack with the included strap and carabiner. For days cycling without children, the FollowMe can be removed completely from the adult's bike within seconds.
Safe and Stable
With two-point support at axle level of the adult's bike, FollowMe ensures safety, ride quality and stability. There is no single-pivot as with conventional seatpost connecting devices, so the child's bike properly tracks the rear wheel of the adult's bike.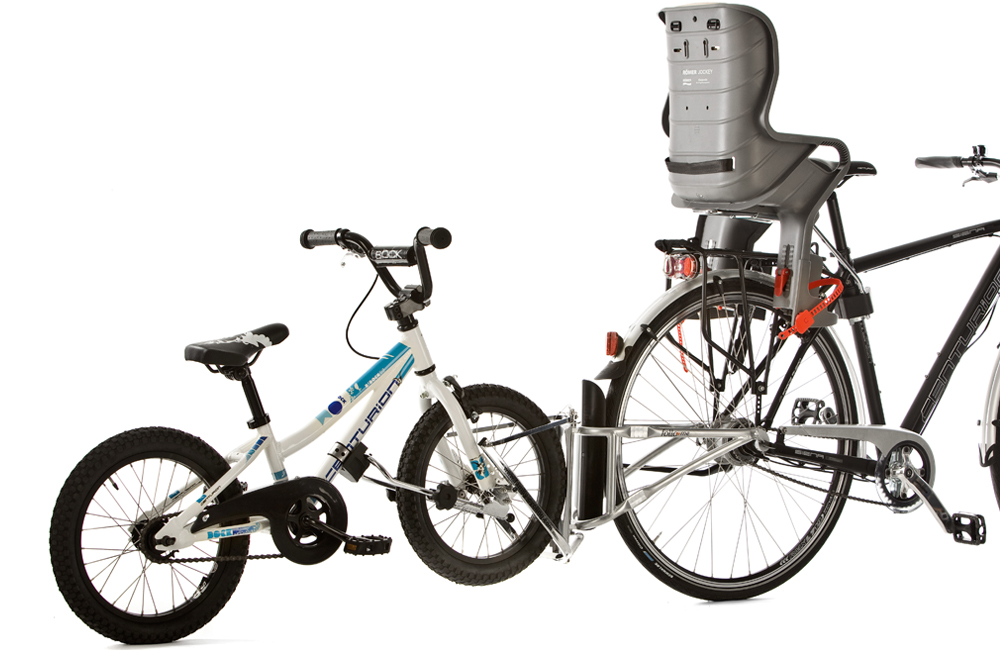 Cycling Together
With the FollowMe Tandem you can cycle together as a family. Tow one child with the FollowMe and take a second on a child seat.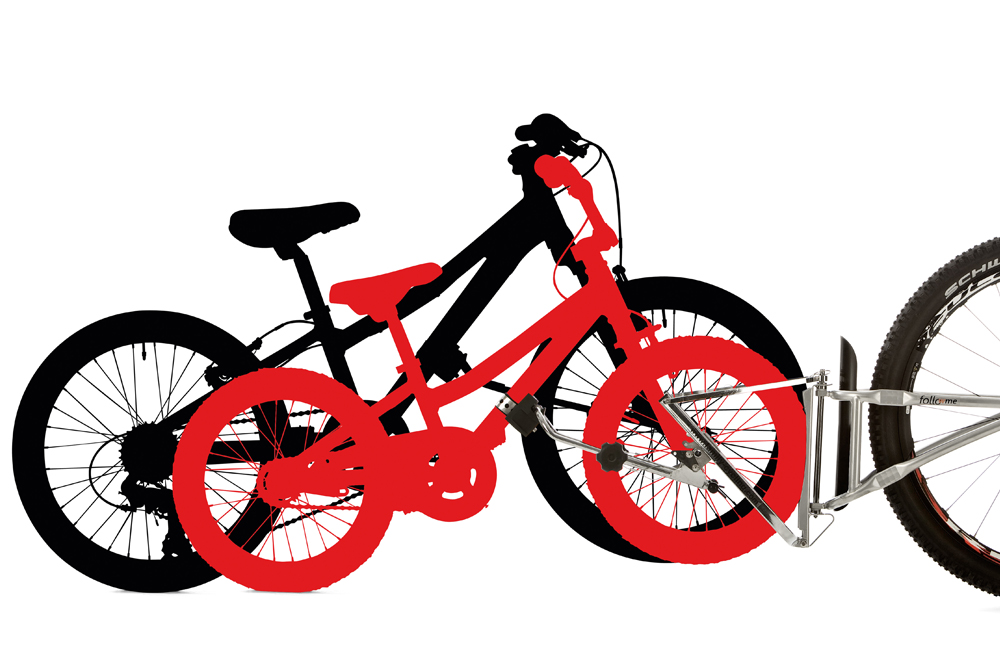 FollowMe Grows
Your child, and therefore their bike, will grow over the years. This isn't a problem with the FollowMe - it is compatible with children's bikes from 12" - 20" wheels; potentially covering 3 - 8 year olds.
Make an Enquiry

Delivery Information
As with any product, specification is subject to change without prior notification. You are advised to confirm current specification before buying.